Pork Shares – Sold Out for 2023!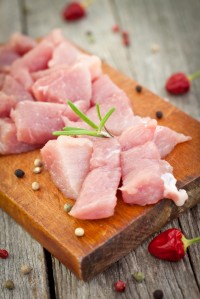 Our hogs are free-range, are supplemented with GMO-free feed, and do not go into a feed lot. Hogs are harvested at the ranch or taken to the butcher and sold to the customer by hanging weight.
Meat hangs for 2 to 3 days and is sold in halves or whole.
Cost: $4.50/lb – hanging weight

*Price does not include Butcher Fees*
***If ordering for a restaurant, please make sure to check the USDA box in the order form. Half and whole shares available.***
Customer is responsible for contacting butcher to give cutting instructions.
Non-refundable Deposit required for order:
Deposit deducted from order at time of payment (see Notes on Pork).
USDA Pork Variety Packs: No Longer Available
Place a PORK Order 

*We purchase our GMO Free Feed from Bar*Ale Premium Livestock Feeds at Valley Feed in McMinnville, Oregon. Below is more information on their Pig feed.*
Bar*Ale Premium Livestock Feeds
Crude Protein min……………………16.0%
Lysine min……………………………….0.9%
Crude Fat min……………………………2.1%
Crude Fiber max………………………..6.0%
Ash max……………………………………10.0%
Calcium min 0.8%………………..max 1.2%
Phosphorus min………………………….0.4%
Sodium min 0.2%…………………max 0.4%
Ingredients:
Ground Corn Non-GMO, Wheat-Ground, Sunflower Meal, Wheat Millrun, Organic Soybean Meal, Calcium Carbonate, Monocalcium Phosphate, Sodium Chloride, L-Lysine, DL-Methionine Dry, Saccharomyces cerevisiae yeast and the media Non-GMO, Diatomaceous Earth Montmorillonite, Natural and Artificial Flavors, Potassium Chloride, Ferrous Sulfate, Zinc Oxide, Manganous Oxide, Vitamin E Supplement, Copper Sulfate, Niacin Supplement, Calcium Pantothenate, Sodium Selenite, Menadione Sodium Bisulfite Complex, Vitamin A Acetate, Riboflavin, Vitamin D Supplement, Vitamin B12 Supplement, Calcium Iodate.