Chicken Fryers –  No longer offering.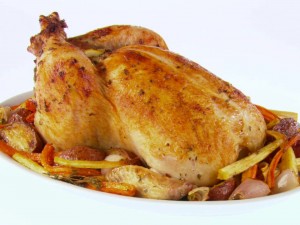 ---
Eggs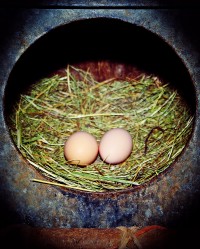 Our chickens are all free-range and are supplemented with GMO free food!
$6.00/dozen
Contact us for availability of eggs.
*We purchase our GMO Free Feed from Bar*Ale Premium Livestock Feeds at Valley Feed in McMinnville, Oregon. Below is more information on their layer feed.*
Bar*Ale Premium Livestock Feeds
Crude Protein min…………………..16.0%
Lysine min……………………………….0.9%
Methionine min………………………..0.4%
Crude Fat min……………………………3.1%
Crude Fiber max………………………..9.2%
Ash max……………………………………11.5%
Calcium min 3.0%………………..max 4.0%
Phosphorus min…………………………..0.5%
Sodium min 0.3%…………………..max 0.6%
Ingredients:
Wheat-Ground, Sunflower Meal, Ground Peas, Calcium Carbonate, Flaxseed Meal, Monocalcium Phosphate, Lignin Sulfonate, Diatomaceous Earth Montmorillonite, Sodium Chloride, DL-Methionine Dry, L-Lysince, Phytase from Aspergillus niger, Ferrous Sulfate, Manganese Oxide, Zinc Proteinate, Niacin, Selenium, Vitamin E Oil, Vitamin E Adsorbate, D-CA Pantothenate, Vitamin A 650, Basic Copper Chloride, Vitamin D3 500, Biotin, Riboflavin, Vitamin K MSBC, Pyridoxine Hydrochloride, Eddi, Vitamin B12, Thiamine Mononitrate, Folic Acid, Choline Chloride, Natural sources of Yellow made of Saponfied Extracts of Marigold Flowers, Saccharomyces cerevisiae yeast and the media Non-GMO, Hydrolyzed yeast, Brewers dried yeast, Dried Lactobacillus acidophilus fermentation product, Drive Lactobacillus casei fermentation product, Dried Enterococcus faecium fermentation product, Dried Bifidobacterium longum fermenation product, Dried Aspergillus oryzae fermentation extract.
---
Seasonal Turkeys –

No Longer Offering